Prices starting at just
$2999/mo

internet
plus $10/mo. Wi-Fi router service fee
per month for 12 months. Actual speeds may vary. Activation, Internet Infrastructure Surcharge ($3.99/mo.), taxes & other fees apply. Services subject to availability and all applicable terms and conditions.
Frontier FiOS Internet Available in California
Max speeds as fast as 50 Mbps download/upload
1-Year price guarantee on monthly service fee
Prices starting at $29.99
for 12 months. Actual speeds may vary. Installation, Equipment fees, Internet Infrastructure Surcharge, taxes & other fees apply. Services subject to availability and all applicable terms and conditions. Terms & Conditions
×
Limited-time offer for new residential FiOS Single Play customers in select areas of IN, WA, OR, CA, TX and FL. Must subscribe to a qualifying package of new High-Speed Internet with maximum Internet speed of 50 Mbps download and 50 Mbps upload. Higher speeds available in select areas only for an additional monthly fee. Maximum service speed is not available to all locations and the maximum speed for service at your location may be lower than the maximum speed in this range. Service speed is not guaranteed and will depend on many factors. Service and promotion subject to availability. After 12-month promotional period, monthly price on Internet service will increase. Cannot be combined with other promotional offers on the same services. Installation ($75), equipment fees, taxes, governmental surcharges, and fees, including Wi-Fi router service fee ($10/mo. or one-time fee of $200), A $9.99 broadband processing fee upon disconnection of service applies. Equipment delivery/handling fee of $9.99 applies. Minimum system requirements and other terms and conditions apply. Standard charges apply for jack installation, wiring and other additional services. Other restrictions apply. The FiOS marks are owned by Verizon Trademark Services LLC and used under license. ©2019 Frontier Communications Corporation.
Check Availability by Popular Cities
Check Frontier Availability in your area.
Frontier Bundles Help You Save in California
Get all the home services you need in The Golden State with bundled service from Frontier Communications. When you sign up for Phone, Internet, and TV from Frontier in California, you'll get all three services on one bill, for one low price. Here are a few of the benefits you will enjoy with a bundled package from Frontier:
Unlimited Local Calling
Unlimited Nationwide Calling available
FiOS Internet from Frontier
Download Speeds as fast as 500Mbps
FREE 24/7 Tech Support
up to 385 Channels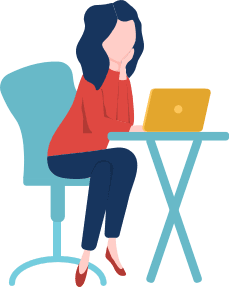 Working From Home in California? You Could Be Saving Big Time
Working from home is a growing trend in America. More and more companies are giving their employees the option to work remotely either full-time or part-time, and people are taking advantage of it. According to recent data from the US Census¹, 3.3 percent of workers in the US worked from home in 2000, five percent in 2016, and 5.2 percent—about 8 million–worked from home in 2017.
Work/life balance and a flexible schedule can be hard to come by with a typical 9-5 job. With the emphasis of life being less about "the job" and more about personal fulfillment, working from home has proven to be a great way for employees to stay productive while avoiding burnout. A two-year study conducted by Stanford University² on the productivity of at-home workers resulted in an "astounding boost." But productivity isn't the only thing to be gained when businesses allow workers to telecommute. As indicated by Fundera³, two-thirds of managers who offer telecommuting flexibility say it enables their business to save over $11,000⁴ each year. Working remotely also saves workers from the headache of a daily commute, avoiding wear and tear on vehicles, and the financial burden of gas each day.
So how much do employees save when they work from home? Frontierbundles.com decided to find out.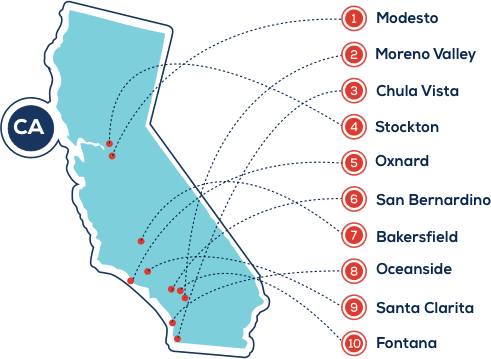 Interesting Facts About Working From Home
Modesto residents who work from home save the most money on gas in California: $1,612.15 per year. That's enough to buy a tall Starbucks Frappuccino every day of the year and still have over $400 left.
San Francisco saves the least on gas with an average savings of $894.03 per year.
Modesto workers who don't work from home spend an average of 27.5 minutes per one-way commute. This isn't too surprising, considering 27 percent of them commute more than 50 miles each day. Compare that to Glendale where only 6 percent of workers drive more than 50 miles each day.
Two-thirds of Americans drive alone to work.
The average American spends over 100 hours a year commuting to work. That's two and a half weeks' worth of working hours spent driving.
Worth Your Weight in Gas: California's Commute Compared to Fuel Savings
| | Rank | Average distance (mi) | Average gas price | Average gas savings (wfh) |
| --- | --- | --- | --- | --- |
| Modesto | 1 | 20.34 | $3.81 | $1,612.15 |
| Moreno Valley | 2 | 20.06 | $3.77 | $1,572.76 |
| Chula Vista | 3 | 18.93 | $3.82 | $1,504.05 |
| Stockton | 4 | 19.38 | $3.77 | $1,519.83 |
| Oxnard | 5 | 18.69 | $3.82 | $1,485.13 |
| San Bernardino | 6 | 18.35 | $3.76 | $1,434.93 |
| Bakersfield | 7 | 18.09 | $3.85 | $1,448.44 |
| Oceanside | 8 | 17.65 | $3.82 | $1,402.79 |
| Santa Clarita | 9 | 17.39 | $3.83 | $1,385.15 |
| Fontant | 10 | 16.92 | $3.76 | $1,323.15 |
Methodology
We looked at the 25 most populated cities in California. For each city, we used data from the US Census Bureau to determine the average commute distance for people that lived in each city. We used the average gas price from Gas Buddy for the city as listed on June 16. Assuming a 25 mpg car and working 260 days (5 days a week for 52 weeks), we then calculated the annual gas savings if you worked from home in each city.