Prices starting at just
$9400

tv
for 24 months w/ qualifying services. TV equipment charges apply. Subj. to availability. Terms & Conditions
×
Equipment, taxes, governmental and other Frontier-imposed surcharges, and fees, including broadcast fee of $5.49/mo. ($4.49/mo. WA), TV equipment fee (up to $15/mo. for each DVR or Set-Top Box), Quantum service fee if customer chooses Quantum TV Enhanced ($10/mo.), also requires 1 DVR or Quantum TV Premium Experience ($20/mo.) also requires 2 DVRs, and other applicable charges extra, and subject to change during and after the promotional period. Wireless set-top boxes may not be available in all areas and will be installed at technician discretion. Additional fees may apply to Video on Demand viewing. Minimum system requirements and other terms and conditions apply. Installation fees apply. Standard charges apply for jack installation, wiring and other additional services. All TV prices, fees, charges, packages, programming, features, functionality and offers subject to change. Frontier reserves the right to withdraw this offer at any time. Other restrictions apply. The FiOS marks are owned by Verizon Trademark Services LLC and used under license. ©2019 Frontier Communications Corporation
FiOS TV Packages by Frontier
Order Frontier FiOS Now!
Prices starting at $94.00
for 24 months w/ qualifying services. TV equipment charges apply. Subj. to availability. Terms & Conditions
×
Equipment, taxes, governmental and other Frontier-imposed surcharges, and fees, including broadcast fee of $5.49/mo. ($4.49/mo. WA), TV equipment fee (up to $15/mo. for each DVR or Set-Top Box), Quantum service fee if customer chooses Quantum TV Enhanced ($10/mo.), also requires 1 DVR or Quantum TV Premium Experience ($20/mo.) also requires 2 DVRs, and other applicable charges extra, and subject to change during and after the promotional period. Wireless set-top boxes may not be available in all areas and will be installed at technician discretion. Additional fees may apply to Video on Demand viewing. Minimum system requirements and other terms and conditions apply. Installation fees apply. Standard charges apply for jack installation, wiring and other additional services. All TV prices, fees, charges, packages, programming, features, functionality and offers subject to change. Frontier reserves the right to withdraw this offer at any time. Other restrictions apply. The FiOS marks are owned by Verizon Trademark Services LLC and used under license. ©2019 Frontier Communications Corporation
230+ channels
Add premium channels for only $5 each
Agents available for the next 88:88:88
FiOS TV Plans for Every Budget
FiOS® by Frontier® has packages with more than 140 HD-quality TV channels, plus thousands of free videos ON DEMAND. And if that weren't enough, FiOS Internet is the perfect complement to FiOS TV, giving you the bandwidth you need to stream the content you want.
Frontier TV Channels and Programs
FiOS TV by Frontier has something for everyone. You can watch your local news or the latest national headlines on CNN® or MSNBC®, catch up on your favorite network TV shows or check out new shows on FX® or USA®, and even get the latest sports news on ESPN®.
Want more movies or sports? FiOS TV by Frontier lets you sign up for premium channels like NHL Center Ice®, and MLB Extra® Innings.
For a complete list of channels, download the Channel Guide PDF. Looking for public, education, or government channels, or want to see what's in the Music Choice Channel Guide? Simply download the appropriate PDF.
FrontierTV App
You're no longer tethered to your couch each evening to watch your favorite TV shows, so why should your TV shows just be viewable on your TV?
With the FrontierTV app you can watch live programming, check your local listings, and manage your DVR from the grocery store, doctor's office, or during your commute. The FrontierTV app keeps your FiOS TV entertainment at your fingertips, wherever you are.
See if Frontier is available in your area.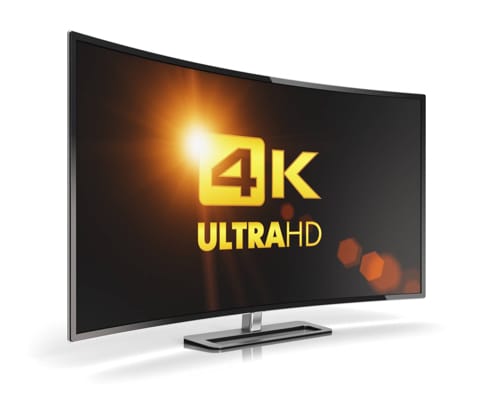 The FiOS TV Difference
Before cable, there were TV antennas, or "rabbit ears." You often had to adjust them to get a good signal so you received a clear picture instead of a fuzzy one or—even worse—snow. And with "rabbit ears," you were often limited to your local TV stations and the local public network station. Technology advanced to bring you cable, which not only expanded the number of channels available, but did away with manually adjusting "rabbit ears" to get a clear picture.
As technology continues to advance, and more content goes digital, faster methods of data transfer are needed to deliver things like HD-quality pictures and 4K movies. FiOS TV, which is made of fiber-optic cables that have thousands of tiny strands of glass, helps move data packets at the speeds necessary to watch a TV show or movie in HD or 4K. With FiOS TV, you have the bandwidth necessary to watch your favorite movie or TV in all its HD glory, even if all of your neighbors are watching the same movie or TV show.