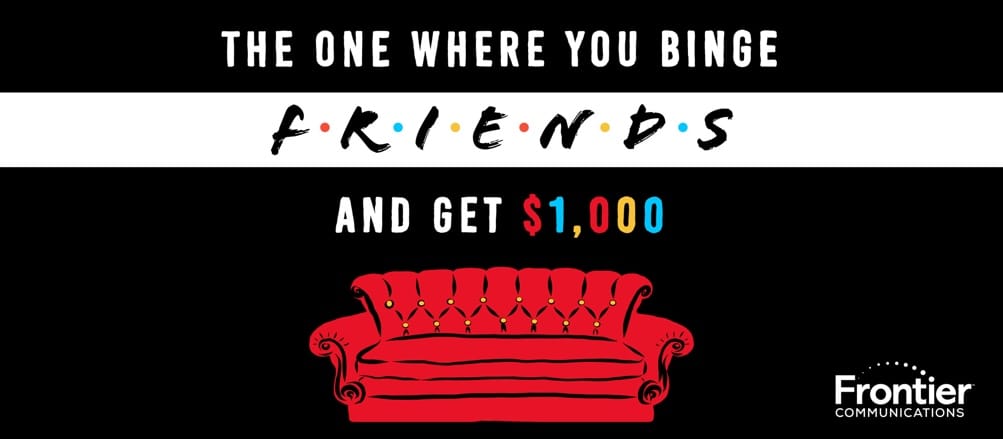 Do You Love Friends?
Prove It!
Watch 25 Hours and Earn $1,000
How you doin'? It may be hard to believe, but the hit show Friends will be celebrating its 25th anniversary this year. FrontierBundles.com would like to commemorate this milestone by rewarding one lucky fan $1,000 for watching 25 hours of the show.
From the day it premiered, Friends was a cultural phenomenon, and we want to see if that legacy holds up. Think of this dream job as an easy way to make some quick cash while simultaneously feeding your nostalgia for the ultimate squad that took the '90s and early '00s by storm (with the help of a catchy theme song and an orange couch in a coffee shop).

Your Task
In honor of the 25th anniversary of Friends' debut, one lucky candidate's task will be to watch 25 hours' worth of the show (roughly 60 episodes) before September 22, 2019. As you work your way through the show, you'll also be required to live-tweet throughout your experience. Once you have completed your marathon, tweet a picture of yourself celebrating the day of September 22 with your own friends (be sure to tag @FrontierCorp in your post) and we will send you your hard-earned reward! Could there BE a more perfect gig out there?
Who We're Looking For
This job is for any self-proclaimed die-hard Friends superfan looking to prove their salt. We're in search of the ones who know the quotes ("PIVOT!!"), the hilarious scenarios (the beef in the trifle; the Holiday Armadillo), and all the little details (exactly how many sisters does Joey have? What is Chandler's job?) that make the show the tried and true classic it is.
Our Friends fan must also be an organized, detail-oriented individual. It helps to have an active Twitter account and following, as you'll be required to tweet throughout the challenge. No degree is necessary, nor will a drug test or background check be performed; however, applicants must be 18 years or older and a US citizen or permanent resident to apply.
The Prize
Once you've completed your task, you will receive a check for $1,000 to spend as you please.
To ensure you have access to the show, FrontierBundles.com, an authorized retailer of Frontier Communications, will sponsor a year-long Netflix subscription. If you already have a Netflix account, we'll send you a Visa gift card valued at the cost of a year-long subscription.
You'll receive a Friends Fandom Fun Pack consisting of a Friends t-shirt, Central Perk mug, popcorn, treats, and a 12-month Netflix subscription.
Get paid to watch TV from the comfort of your own couch—what could be more ideal than that?
Invite your friends to watch with you and take pictures, and we will post them to our website.
How to Apply
To join the running of applicants, simply fill out the form below and answer a couple of Friends-oriented questions :
SUBMISSIONS ARE NO LONGER BEING ACCEPTED.
FrontierBundles.com will officially announce the winner on Monday, September 16, 2019. The participant will have from then until Sunday, September 22, 2019 to complete their marathon mission. Good luck, Friends fanatics, and remember: if you need us, we'll be there for you.
Please direct all media inquires to javier.mendoza@ftr.com
Want to binge-watch Joey "acting," Ross and Rachel fighting, and Chandler working at...whatever job he works at all weekend long? See if Frontier Internet is available in your area.
Frequently Asked Questions
The rules of the competition and the prize for the winner are as follows:
The promoter of this competition is FrontierBundles.com whose principal office is located at 5202 W. Douglas Corrigan Way, Salt Lake City, Utah 84116.
Employees of FrontierBundles.com or their family members or anyone else connected in any way with the competition or helping to set up the competition shall not be permitted to enter the competition.
Persons must be at least 18 years old, or otherwise have reached the age of majority under the laws of the state where you reside, in order to participate.
Only residents of the United States are eligible to participate.
VOID WHERE PROHIBITED.
There is NO ENTRY FEE AND NO PURCHASE NECESSARY TO ENTER THIS COMPETITION. Any purchase or consideration otherwise given by entrants will not improve one's chances of winning.
Route to entry for the competition and details of how to enter are available via FrontierBundles.com. Individuals may enter to win by clicking on the participation link on FrontierBundles.com's website. Upon clicking the participation link, entrants will be asked to provide their name and contact information so that FrontierBundles.com can notify the winner of the results.
Closing date for entry will be September 3, 2019 at 11:59 pm MST. After this date, no further entries to the competition will be permitted.
One winner will be selected from the entire pool of eligible entries. The winner will be selected by FrontierBundles.com in its sole discretion. The winner will be required to complete certain tasks determined by the FrontierBundles.com team. If the winner does not follow through with the tasks required of them, they will not receive their cash prize of $1,000.
The winner will be notified by email and/or letter within 14 business days at the closing date. If the winner cannot be contacted or does not claim the prize within 10 days of notification, we reserve the right to withdraw the prize from the winner and pick a replacement winner.
The winner specifically acknowledges that the Friends Fandom Fun Bag shall be provided and fulfilled by FrontierBundles.com. The Friends Fandom Fun Bag consists of a Friends t-shirt, Central Perk mug, popcorn, treats, and a 12-month Netflix subscription.
FrontierBundles.com will notify the winners when and where the prize can be collected.
The winner will receive a Friends Fandom Fun Bag either mailed or hand-delivered to the winner.
No cash alternative to the prize will be offered. The prize is not transferable. Prizes are subject to availability and FrontierBundles.com reserves the right to substitute any prize with another of equivalent value without giving notice.
The winner agrees to the use of his/her name and image in any publicity material. Any personal data relating to the winner or any other entrants will be used solely in accordance with current federal and state data protection legislation and will not be disclosed to a third party without the entrant's prior consent.
The winner agrees to provide FrontierBundles.com with a worldwide, irrevocable, perpetual license to use any images, videos, or tweets that they send us or post as part of this contest.
The winner's names will be available 28 days after the closing date by sending a stamped addressed envelope to the following address: